Dear Bandhu,
We would like invite you to this great satsang we are doing every day on telebridge.
Plava ta:rakam - the boat to cross over the pandemic.
Please join in.
We are planning to do Sri Vishnu Sahasra Namam chanting (Round robin style) in place of Samkshepa Ramayanam every day evening at 7.00 PM CST 5.30 AM IST followed by hare Rama chanting.
Date & Time:
From May 14, 2021 -7:00 PM-8:00 PM CST
From May 15, 2021 -5:30 AM-6:30 AM IST
It will continue everyday till 24th July, 2021
» Let Us Join in Tele Satsang through ZOOM App
Download ZOOM APP and click this below Link.
tiny.cc/sayrama
(Meeting id and password included in the link)
For Nama Sankeetana Program details- Click here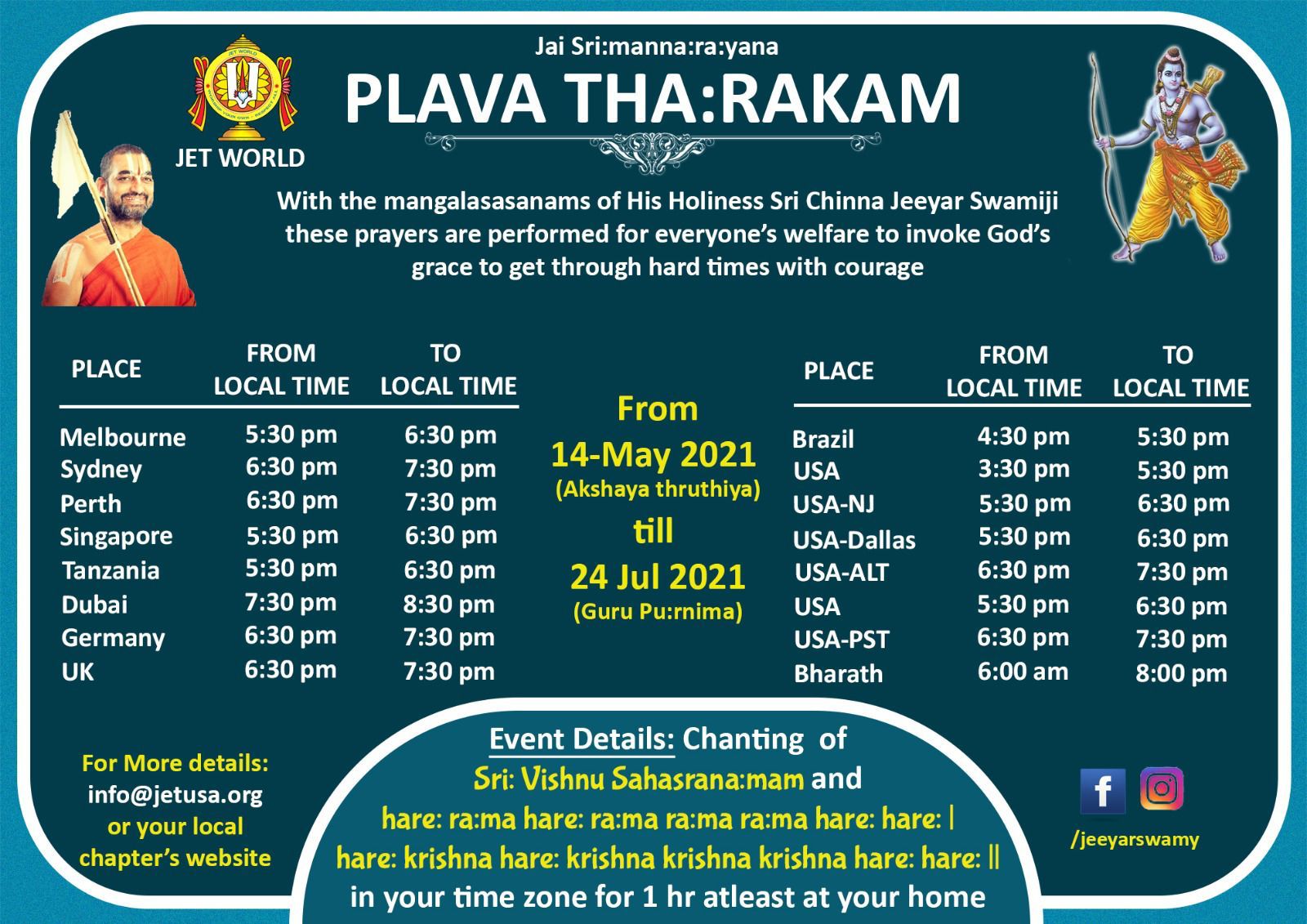 ------------------------------------------------------
If you wish to chant along with us, Join the SRC Daily Chanting Whatsapp group through below link:
https://chat.whatsapp.com/LCiTFWZ0KDe4GzdOSnmJiz
Hope to have this continue as long as we can.
May the Lord Rama shower his blessing on to you all and allow you to take this small sankalpa to do it everyday as far as possible.
RESOURCES FOR CHANTING /LISTEING
We chant the following stotras in this order:
1. Vishnu Sahasra Naamam chanting
2. Sudarshanaastakam chanting
Additional Resources:
Sri Vishnu Sahasranamam chanting by H.H Chinna Jeeyar Swamiji
To listen Sudarshanaastakam chanting
Sudarshanaastakam (Audio)
If you have any Questions please contact us at
contact@pravachanam.com